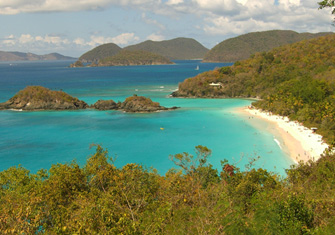 Anegada, British Virgin Islands
Anegada is the most northerly of the group of islands that form the archipelago of the BVI. Anegada is unique because it is formed from coral and limestone rather than volcanic ashes. While the other islands are mountainous, Anegada is flat and its highest point is approximately 28 ft above sea level, earning it the name drowned land. This name "drown land" was given by Columbus on his voyage through the Caribbean. Anegada is also the second largest of the islands in the BVI. Anegada is unique in that is sparsely populated and its sandy white beaches stretch right round the 16 square miles. Anegada can be access by boat using Road Town Fast Ferry and Smith's Ferry. Most tourists however rent a yacht and enjoy the adventure of sailing to Anegada.
Another access point to Anegada can be through the local airlines such as VI Air link Fly BVI, Island Birds, Caribbean Wings and Ace Flight center.
Another great attraction of Anegada is the Horse Shoe Reef. The Horse Shoe Reef is the fourth largest barrier reef in the world and has been known to have many ship wrecks which at present serve as diving attractions. The reef makes navigation to Anegada difficult. While charter boats freely sail among most of the other Virgin Islands, charter companies often forbid clients to sail to Anegada until they are familiar or have a captain onboard who can offer expert navigational expertise. Please note, in order to protect the reef, the relevant Government authorities restricts persons from anchoring on the reef.
Another attraction of Anegada is the pink flamingo and the rich salt ponds. The flamingos can be found in the salt ponds located at the western end of the Anegada. Other rare or endangered animals include the Anegada rock iguana and several species of turtles. Conch, Caribbean lobster, and many fishes can be found near Anegada, particularly in the deep waters off the North Drop to the north of the island.